Unemployment for Spanish under 25's now beyond 50pct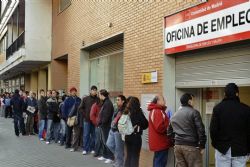 Figures recently released by Eurostat, show how the Spanish unemployment figures for the Country's under 25's now stands at 50.5%.
The Luxembourg based Directorate of the European Commission found that unemployment increased throughout the Eurozone by 10.8% and wider EU member states by 10.2%.
Spain recorded the highest rate of unemployments across all age groups, with a rate of 23.6%.
February's results show Greece in second place with 21% and Portugal in third place with 15%.
In comparison Austria has rate of unemployment of just 4.0%, followed by the Netherlands with 4.9%, Luxembourg with 5.2% and Germany with 5.9%. Out of the almost 25 million unemployed throughout the EU, 5.4 million are under the age of 25.