Spanish Judge dismisses Ryanair complaint against consumer group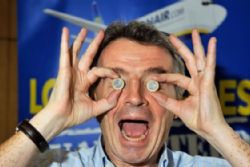 A Judge in a Seville court has dismissed a lawsuit brought by Ryanair against the FACUA Consumer Action Group, over recent claims that the association regularly publicised unfounded complaints made against the airline and branded the airline's business practices as illegal and abusive.
Just 2 weeks ago FACUA accused Ryanair of fraudulent advertising in their common practice of advertising tickets at a prices which rarely bore any ressemblance to the final price paid.
The Judge held that FACUA had simply reported the facts of the case, and that the statements made by the conusmer group could not be considered harmful to Ryanair, but an exercise of freedom of expression. Furthermore, after considering the evidence the Judge agreed that there had been instances of cases which could be considered abusive.
The group also reported how Ryanair accused them of having "affected their honor" and of "attacking their reputation", which caused a "grave discredit on the market".
The Airline also demanded that the group withdrew all negative publications about them on their website and any social media networks.
Ryanair, who were recently listed in FACUA's top 5 worst companies in Spain , now has 20 days to submit an appeal against the ruling.