7.8 Million Spanish airport arrivals expected this Easter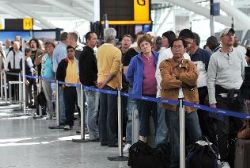 Spain's airports are preparing for the arrival of more than 7.8 Million passengers over the Easter period.
The AENA network of airports have scheuled a total of 50,911 operations during the 30th March to 9th April period, with 5001 operations last Friday, and a further 4288 planned for Friday 6th April.
These figures compare with easter 2011 when 8.5 Million passengers flew on 57'029 operations, representing an 8.2% fall in passenger numbers and a 12% fall in the number of flights.
Madrid-Barajas will be the busiest airport with 11,418 flights and 1.8 Million flights being offered, with Barcelona-El Prat airport having 8,740 scheuled flights and 1.4 million seats.
However, Monday 9th of April sees just 901 movement and 151,279 passengers. Although the last day of the easter period is typically popular with passengers flying home to be ready for work the following day, it also marks the first date of the strike action planned by Iberia Pilots , which has resulted in the cancelation of 156 flights.