Number of Spaniards living in Germany up by 4.5pct in 2011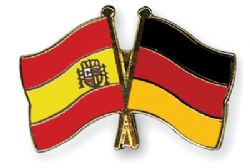 The number of Spaniards living in Germany increased by 4.5% last year to reach a total of 4,792 people, according to the Federal Statistical Office (Destatis).
The total number of foreign residents in Germany grew by 177,300 people in 2011 - an increase of 2.6%, and bringing the total to 6.93 million. This growth is the largest seen in 15 years, influenced largely by the financial crisis in South Europe and the free movement of labor within the EU countries from eastern European countries, which only came into effect last May.
Visiting the Czech republic yesterday, Chancellor Angela Merkel said how Germany urgently required more workers. "If in Spain there is 40% youth unemployment, it makes no sense to bring in immigrant workers from outside of the EU."
Destatis said that the Central Register of Foreigners in which bases its data only includes those foreigners who are temporarily in Germany and offers generally lower figures than other sources.