Ryanair's deal with Catalonia safe from AENA fee hike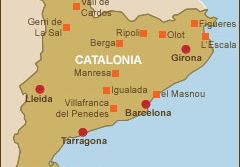 The Generalitat de Catalunya held it's breath for a while yesterday following the news that AENA are to increase their fees across their network of airports in Spain.
At the end of lat year the Generalitat managed to secure a commitment from Ryanair to return their operations to the regional airports of Reus and Girona in a deal worth €40 Million over a 5 year period. However, the deal, whereby Ryanair agreed to bring 500'000 passengers per year to Reus and 3 Million to Girona, was conditional on fees at the respective airports remaining fixed for the duration of the agreement.
Yesterday the Government confirmed that the proposed increases would only apply to the major international hub airports of Madrid-Barajas and Barcelona El-Prat, thereby leaving the agreement made between the Catalan Government and Ryanair intact.