Euro to mark worst week in 4 months on Spain jitters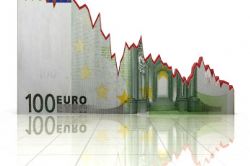 The euro is poised to post its worst week in nearly four months on Friday, languishing a little above a three-week low against the dollar as worries about rising Spanish debt yields show no signs of abating ahead of key U.S. jobs data.
Economists expect the payrolls report due at 1230 GMT to show the U.S. economy added 203,000 jobs in March. That would mark a fourth straight month of solid job creation and the longest streak of monthly employment gains of more than 200,000 since 1999.
A solid U.S. jobs reading would likely bolster yields on short-term U.S. Treasuries, boosting the greenback and weighing further on the euro, which was at $1.3073, struggling to pull away from a three-week low of $1.3035 hit the day before.
The single currency, however, managed to scramble above key technical support at the base of the Ichimoku cloud at $1.3056, although few thought it would hold that level for long due to resurfacing worries over euro zone debt.
"I'm negative on the euro. It's likely to keep extending losses below $1.30 as there's no event that could stop its decline amid worries over Spain," said Sumino Kamei, senior currency analyst at Bank of Tokyo-Mitsubishi UFJ in Tokyo.
Spanish debt suffered for a third straight session as the hangover from a poor debt auction earlier in the week fuelled concerns over the country's ability to tackle its fiscal problems.
The euro and risk currencies have been under pressure against the dollar, which climbed broadly after Federal Reserve policy meeting minutes released on Tuesday showed the bank was becoming less eager to print more money to bolster the economy.
Against the yen, the euro was at 107.55, not far from a one-month trough marked overnight at 106.89. The euro could drop more, traders said, before finding support around 106 yen where the 38.2 percent retracement of its recent rally and the top of the Ichimoku cloud come together.
The dollar index, tracking the greenback's performance against major currencies, remained close to a three-week high of 80.18 but had given back a bit of ground to 79.99.
The Aussie last fetched $1.0308, holding well above support at $1.0263, the 50 percent retracement of the November-February rally.
The Aussie was knocked from its February peak of $1.0857 to the previous session's nadir by a soft patch of local data, fears about a hard landing in China and expectations for a rate cut next month.
The dollar hovered barely changed at 82.27 yen, in the middle of its well-worn recent range.
Trading was thin as markets in Australia, Hong Kong and Singapore were closed for the long Easter weekend.