'EU bailout not on table' : De Guindos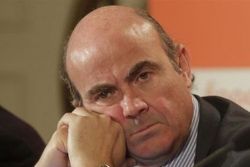 A European bailout for Spain is not on the table and would be the worst possible outcome for the country's debt troubles, Economy Minister Luis de Guindos said in an interview with state radio late on Thursday.
"We have not asked for it, it's not on the table ... it would be the worst possible outcome, it would be the last resort. Spain cannot lose its autonomy with respect to economic policy," he said.
The comments came after Spanish debt prices suffered for a third straight session as a hangover from a weak debt auction earlier in the week stirred worries about the country's ability to tackle its fiscal problems.
Yields on Spanish 10-year debt rose by as much as 14 basis points to hit 5.86%. The risk premium that Spanish 10-year bonds pay over German Bunds broke 400 basis points on Thursday for the first time since December.
De Guindos blamed the sharp rise in spreads on general market nerves about the lack of growth in European economies and said the issue was not restricted to Spain. Borrowing costs for countries and the private sector were not sustainable at these levels, he said.
"These spread levels are not sustainable for long," de Guindos said. "It makes it hard for Spain or Italy to finance themselves, it makes it hard for the private sector, namely the banks, to finance themselves. It's a situation that must be turned around."
Concerns Spain will struggle to meet stringent deficit targets and repair its damaged banking sector in a shrinking economy have fueled worries it might be forced to follow Greece, Ireland and Portugal in seeking a bailout.