Ten year anniversary of Park Warner Madrid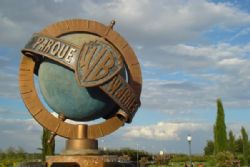 Today marks the 10th Anniversary of the opening of Parque Warner in Madrid.
Just last month it was rumoured how the theme park may close following the closure of the rail link from Atocha train station, which came at a cost of €85 Million, with a further €3.3 Million per year to operate.
The concept for the park began in 1996, with the purchase of 544 hectares of land, and the promise that it would become the largest theme park in the whole of Europe.
The original plan for the resort was to build hotels, water park and golf courses, and to attract 3 million visitors per year. Even though numbers have rarely risen above 1 million visitiors per year, and debts are thought to stand at €200 Million, the owners of the park have refused to give details of their financial position.
With a 21% stake in the park, Caja Madrid led the way in a project that attracted €720 Million and created 1'200 much needed jobs in a suburb of Madrid with jusy 10'000 inhabitants.
Howver, despite the opening of new attractions as recently as 2005, the park has joined the likes of Terra Mitcia in Benidorm and Isla Magica in Seville in struggling to attract visitors and become profitable. Only Catalonia's Port Aventura has managed to achieve both.
Just 2 years after its inauguration, the PP ruled that the park had failed and considered that they should attempt to recover their investment through sale of the undeveloped land surrounding the park.
Observers and critics of the Paramount Theme Park project in Murcia may draw parallels between the two parks.