Iberia fire 8 Pilots over strike disputes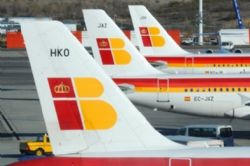 Iberia sacked a further 2 pilots on earlier this week for "committing the very serious offense of failing to meet their work obligations," the company said. According to Iberia, the two pilots refused to fly their scheduled routes without giving any viable reason.
"The pilots' behavior goes against what is outlined in the Workers' Statute and the company's own collective bargaining agreements," the airline said in a statement.
Since the end of February, Iberia has fired a total of 8 pilots who were under internal disciplinary proceedings for refusing to accept other assignments during periods when the pilots had no flights programmed but were still at the company's disposition.
"Iberia regrets the behavior of part of its workforce of pilots who, encouraged by SEPLA, are not meeting their work obligations, which only serves to hurt the company's clients."
Since December, Iberia pilots have held a series of strikes that have affected a large percentage of the air carrier's routes during peak holiday periods. The Sepla pilots' union and Iberia have been at odds over the company's introduction of the low-cost carrier Iberia Express, which this month began to fly new routes.
The SEPLA pilots union has complained that Iberia's own behavior is one of "threats and firings." The union adds that it won't negotiate with Iberia unless the fired pilots are given back their jobs.