Further Health and Education reforms necessary : De Guindos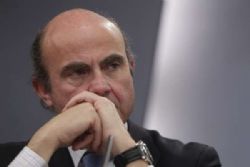 Spain's Minister of Economy, Luis de Guindos, remains convinced that the country will overcome the financial and budget crisis without external assistance.
"Spain is a country that has made ​​mistakes in the past and accumulated imbalances. It is now in the way of correcting those problems," he commented in an interview with German newspaper 'Frankfurter Allgemeine.
He continued that "we will sort out budgets. Our government, elected four months ago, has an absolute majority in parliament and a clear mandate for savings and reforms. This will ensure our success."
The Minister spoke of further reforms being implemented - particularly in the health and education sectors - and improving the functioning of markets, such as property rentals, and the liberalization of trade and professional services.
De Guindos also spoke of how he expects to see a number of mergers and takeovers in the banking industry, which will be encouraged by the state as means of making the country's banks much stronger.
Asked about the budget cuts of €25,000 million announced recently, he stressed that "financial consolidation is inevitable. The previous government has left a deficit of 8.5% instead of 6% expected."
"Therefore we must make further efforts, especially in the midst of a recession. We must restore confidence especially in the Spanish economy. That means not only a deficit of 5.3% this year, but 3% ahead. We are committed to that goal."
As for the outlook for 2012, De Guindos told the newspaper how "this year will be difficult. But it will be both the year in which lay the foundations for recovery. The Government is aware of this and do not want to raise false expectations for this year's view of the situation. will drive with less growth and, unfortunately, more unemployment. But we lay the foundation for a better 2013."