Aerocas search for Manager for Castellon Airport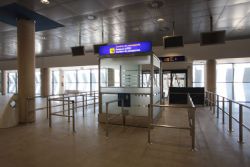 The Valencian Regional Minister for Tourism, Lola Johnson, has commented how the decision of Aerocas to manage Castellón airport after the break-up with Airport Concessions, is a temporary measure and that the intention is to appoint an external manager.
In an interview, Johnson told the press how Aerocas, the concession holder of the airport, has now "reached a point where it is understood we have to address another model."
In this sense Aerocas would still own the airport but outsource the management, in the same way as the relationship between Aeromur and AENA at Corvera airport, expected to be fully operational by next year.
The Minister agreed that "it is a complicated process", but stressed that at this time "the priority is the safety record of the airport." This was something that Airport Concessions was working on, but the responsibility has now passed to Aerocas, which has resulted in some delay.
Johnson also spoke of the priority of finding an expereinced team to manage the facility and develop the full potential of business at the airport.
Although observers have speculated about the possibility of AENA managing the facility , this is something that the Ministry of Development have refused to be drawn on.