Today's Iberia Strike Brings 127 Cancellations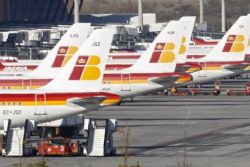 Today marks the first of a total of 30 days of strike action to be held by pilots of Iberia Airlines.
The Pilots, who are represented by the SEPLA union, plan to hold 30 days of 24 Hour strike action on every Monday and Friday between today and the 20th of July in protest over the jobs cuts they fear as the result of the creation of Iberia Express.
The protest began earlier today in the Balearics, Catalonia, Valencia, Navarra and the Basque Country, on a day when many return from their Easter holidays and is thought to have seen fewer cancelations than the 156 originally estimated.
It is believed there have been 54 internal flights, 64 short-haul trips – mostly to European destinations – and nine transatlantic flights cancelled.
The next strike is due to take place on Friday of this week and will involve 122 cancellation – 64 short-haul, 56 internal and 10 inter-continental.
The 12 days of strike action which took place between December and February have been reported to have cost the airline €36 Million due to the disruption caused by cancelations, which is something that the union denies, claiming that they are been made scapegoats for poor market performance.
On Thursday of last week it was announced how the Group CEO of IAG, created by the merger between Iberia Airline and British Airways, was not paid his annual bonus due to the poor perfromance of Iberia.
Last year Iberia's losses reached €61 million, with estimates of losses reaching almost double that figure for 2012.
Last week Iberia filed a complaint with the Court against the union in which they claim the strike to be illegal and claim compensation from the union for a protest they consider to be abusive.