Average Spanish Property Value 27pct down on 2007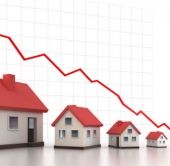 The number of property sales in Spain has fallen 53% over the course of the last 5 years - falling from 775'300 in 2007 to 361'831 in 2011. With no sign of the trend letting up into 2012, house prices have now fallen by an average of 27%.
According to TINSA, the largest reduction in property values has been witnessed along the Mediterranean coastline (34%), followed by Madrid and other regional capital cities (30%).
Other larger cities have recorded a fall in values of around 29%, with the Balearic and Canary islands reporting that values have declined by about 24%.
According to the National Institute of Statistics (INE), the collapse of property prices is compounded by the sharp decline in the number of property sales. In February this year there were 30,745 transactions, down 57.5% on the same month in 2007 when 72,287 transactions took place.
The regions of Andalusia, Catalonia, Valencia and Madrid have traditionally lead the way with property sales in Spain, however in recent years they have also lead the way with the decline in sales - the first 3 regions recording a 61% fall in sales, whilst Madrid has seen a 47% decline.
The regions who have been least affected by the housing crash over the same period have been Extremadura, with a decrease of 35.75% of sales transactions over a 5 year period, followed by the Basque Country (40.8%).