Cordoba Court Rules Ryanair "Abusive"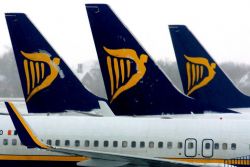 The Spanish Confederation of Housewifes, Consumers and Home Owners (CEACCU) has reported how a Judge has forced Ryanair to pay €3'200 in compensation to a family for denying them boarding of a flight.
The family were refused boarding of the Fuerteventura to Madrid flight last year because they did not have 'appropriate identification' for their two children, aged 3 years and six months.
Whilst Ryanair terms & conditions state that Photographic ID - such as a passport, driving licence or DNI card - are required on all flights, European Aviation Law states that the Libreto Familar (Family Book) can be used for identification purposes of minors when travelling with their parents on domestic flights.
Despite a similar claim for compensation against Ryanair being awarded last year, the airline seems adamant about not changing this aspect of it's terms and conditions - which the Cordoba Court has ruled to be "abusive".