Shares of Spain's Santander fall to 3-year low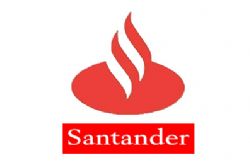 U.S.-traded shares of Spanish bank Santander fell to their lowest level since the financial crisis on Tuesday as fears grow about Spain's ability to pay its debts in the face of rising bond yields.
Shares of Santander, once prized for its aggressive overseas expansion, slid 7% to $6.51, according to Reuters data. The shares hit their lowest level since 2009.
Renewed pressure in Europe's debt markets - principally Spain's - has fueled concerns that the euro zone debt crisis could be about to flare up again. Spanish bond yields jumped across maturities, and the country's central bank warned that Spain's lenders may need more capital to weather a recession.
Adding to the weakness, shares of Japan's Sony Corp slumped 9.2% to $18.24 after it said it will post a record annual net loss of $6.4 billion, double an earlier forecast. The company has been hit by weak demand for its televisions and overtaken by more innovative rivals. The forecast result for the fiscal year ended March 31 marks a fourth straight year of losses.
The BNY Mellon index of leading American depository receipts fell 2%. That compared with a fall of 1.7% in the S&P 500. All three major U.S. indexes fell through support at their 50-day moving averages.
European banks were weak across the board. Dutch lender ING fell 5 percent to $7, while Deutsche Bank fell 3.3% to $43.50. The BNY Mellon index of leading European ADRs fell 2.3%.