Spain must close up to 12'000 bank branches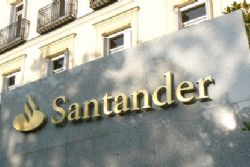 The Head of Banco Santander' Spanish retail division, Enrique Garcia Candelas, has spoken of how the country's banks will need to close between 10'000 to 12'000 branches in order to adapt to current market conditions.
He made the comments at an industry conference in Madrid earlier today, where he explained that the sector was not profitable at the moment, but that the required closures could still represent an opportunity for major lenders.
Recent mergers following two rounds of EU stress-tests have resulted in just 17 lenders emerging from the 53 operating in Spain just 5 years ago.
To date a total of 5,000 branches have closed, represnting 12% of the total number since before 2008, bringing the number of branches to around 40'000.
Candelas said Santander will not shut any of their branches in Spain, and hopes to take advantage of the turmoil to increase its market share when weaker rivals retrench.
Spain's no.2 lender, BBVA, as also increased it's market share by acquiring Unnim recently from the Bank of Spain, whislt Santander have previously said how any furture growth will be organic and not as a result of any mergers.
Later this week the Bank of Spain will meet to discuss arrangements to auction off two nationalized lenders, Banco de Valencia and CatalunyaCaixa.