Corvera uncertainty sees winter flights scheduled at San Javier airport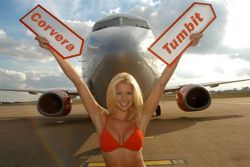 Speculation surrounding the opening date for Corvera Airport made the headlines once again today when Jet2.com announced that their ticket prices for the winter season were now on sale - to and from San Javier airport.
The arline has scheduled flights for the Winter season - which starts from the end of October 2012 until the end of March 2013 - after last week's news that Corvera Airport will not become fully operational until the summer of 2013 .
Jet2.com will fly into San Javier airport 3 times per week from Manchester and Leeds Bradford airports.