Spain prepares to feel the effects of Iran oil sanctions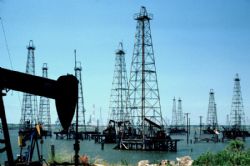 As the cut off date for imposing EU sanctions on the imports of crude oil from Iran draws closer, the spotlight has once again turned to Spain.
The country's economy, in recession for the second time in three years and with the highest level of unemployment in the Eurozone, is heavily reliant on imports of oil from overseas - particularly Iran - and this move has put them undr pressure to find alternative sources.
Although both the Government and major refiners have not been forthcoming with information, Repsol did issue a statement saying it has sourced alternative supplies, however this has brought with it some cost variation and a number of technical difficulties to overcome.
All of which is expected to impact on the price paid at the pump.
The transport sector has already been feeling the effets of fuel price increases in recent months, with petrol hitting a record high of around 1 euro 50 per litre recently. And there are fears that the current standoff between Iran and Europe could push prices up further, hitting the industry even harder.
But while the transport sector is bracing itself for the possibility of further increases in fuel prices, so too are those who sell products such reliant on shipping deliveries in and out.
It seems now that Spain must deal with the reality of living without Iranian oil. And if fuel prices keep going up, the crisis-hit Spaniards are going to feel the pinch even more.