Spain again to test investors' nerves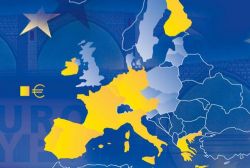 The euro zone crisis is flaring up and debt auctions by safe-haven Germany and current bad boy Spain in the coming week will provide a gauge how far investor sentiment has changed since the shock and awe of recent ECB liquidity injections has worn thin.
Protecting the world economy from the euro area's debt crisis will top the agenda at the IMF spring meeting in Washington at the end of the week, just as quarterly U.S. corporate earnings begin to reflect some improvements coming through in economic activity.
Eyes will also be on the outcome of the first round of the French presidential election on April 22, and March data on the health of U.S. retail sales and industrial production.
But it is the debt markets that are expected to hold the key to investor sentiment.
"Macro factors will continue to dominate because leverage hasn't been dealt with, just passed onto the sovereigns," said Citigroup's Credit Products Strategist Matt King.
In an analysis of all major bond markets, King said it had become clear that where there have been cuts in household and non-financial sector debts in many developed nations these had been all but matched by rising government debt.
"Deleveraging hasn't happened yet, even in the U.S.," he said.
In Europe signs the European Central Bank has halted its huge cash injections, notwithstanding a behind-the-scenes debate over whether to resume a bond-buying programme, have thrust the spotlight back onto Spain and Italy, which have debts of a size that would challenge the region's rescue funds.
And it is Spain, the euro zone's fourth-largest economy, that has been found the most wanting.
"Spain is caught in a pernicious circle in which the weakness of its public finances, the fragility of its banks and the scale of the downturn are all feeding on each other," said Nicholas Spiro, managing director of Spiro Sovereign Strategy, a London-based credit risk consultancy.
"While Italy has won back some credibility, Spain is steadily losing it."
10 year Spanish government bond yields yielded around 5.85% on Friday, compared with equivalent Italian bonds which yielded 5.43%.
Spanish yields have also recently tested the psychologically key 6% line because of the concerns that it could be the next source of contagion in the euro zone debt crisis.
Germany meanwhile will test investor demand for ultra-low yielding but safe debt with a planned sale of two-year bonds.
Germany sold 10-year government bonds or Bunds at the lowest ever average yield of 1.77% on April 11, but saw fewer bids than the amount on offer.
With problems mounting in Spain and as other peripheral euro zone nations like Greece still struggle to avoid further bailouts, the question some are asking is whether investors will get the protection they seek in German debt.
"We continue to expect Bunds to lose some of their appeal as further bail-outs dent Germany's creditworthiness, and growing doubts about the future of the single currency encourage many investors to shun euro assets altogether," said Julian Jessop, chief global economist at Capital Economics, in a note.
Germany will seek to sell €5 billion of 2 year bonds on April 18, while Spain will sell two-year and 10-year bonds on April 19.
IMF RESCUE
Meanwhile ahead of the IMF's spring meeting, the world's 20 biggest economies look set to agree to increase the Fund's resources by between $400 and $500 billion, rather than the $600 billion initially sought by the IMF, Group of 20 officials have told Reuters.
The extra money is to give the IMF, which is a lender of last resort to governments, more firepower to fight the sovereign debt crisis, triggered by unsustainable policies in euro zone countries such as Greece, Portugal and Ireland.
Equity investors have been badly affected by a belief that central bank policy-easing measures are over and by the return of debt fears, contributing to the evaporation in Europe of much of the first quarter's gain in stock prices.
The euro zone's blue chip Euro index turned negative for the year on Friday, wiping out what was left of its stellar first quarter performance. However, thanks to gains in U.S. and Asian markets, the MSCI world equity index is up nearly 9% for the year.
Share markets will be focused on quarterly earnings in the coming week with some big U.S. companies, including Microsoft, Morgan Stanley and Verizon due.
Figures so far from Alcoa and JP Morgan have been better than expected though shares have suffered from the concerns about Europe and signs the giant Chinese economy has slowed.