Spain cracks down on black economy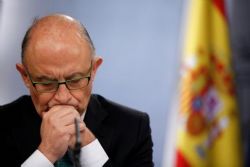 Spain announced plans on Friday to crack down on tax dodgers as it tries to scrape together extra funds to meet stringent budget targets this year.
Several independent economists estimate Spain's underground sector may account for up to one fifth of the economy, and many Spaniards have been working cash-in-hand to tide themselves over as unemployment is tipped to reach 24% this year.
The draft bill proposes to forbid cash payment for more than €2,500 and demand taxpayers declare overseas assets. Failure to comply with the new measures will result in fines, the government said.
The measures would increase government revenue, said Treasury Minister Cristobal Montoro at the government's weekly news conference but he declined to say by how much.
Spain announced deep cuts to its central government budget on March 30, aiming at saving 27 billion euros for the rest of 2012 in a move to convince investors it can rein in its budget deficit and avoid an international bail-out.
The limit on cash payments will not apply to individuals not normally resident in Spain and will not restrict tourist spending, he said.
"It's about favouring the tourist who brings cash and wants to spend it shopping in Spain," Cristobal Montoro said. Tourism accounts for about 10% of Spain's GDP and is one of the few drivers of growth in a moribund economy.
The measures to crack down on overseas assets will include bank accounts, life insurance policies and shareholdings. There will be a minimum fine of €10,000 for undeclared assets, the government said.
The cost of insuring Spanish debt against default hit 500 basis points for the first time on Friday as fears about the high exposure of the country's banking sector to sovereign debt drove the price of credit default higher.