Iberia cancel 121 flights on day 2 of strikes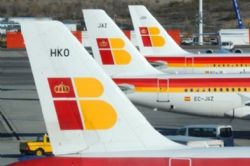 Iberia airlines was forced to cancel a total of 121 flights yesterday, Friday 13th of April.
The second of 30 days of announced strike action in protest over the airline's launch of a low-cost division uner the name of Iberia Express took place following Monday's action, which resulted in 12 Cancellations.
The SEPLA Pilots union has called for a total of 30 days of 24 hour strike action to take place on every Monday and Friday betweem April 9th and July 20th, and is expected to cost the airline around €90 million.
The previous period of strike action, between December and February, resulted in 12 days of disruption at the cost of €36 million to the airline.
Last year the losses made by the airline totalled €61 million and resulted in the CEO of the IAG group, Willie Walsh, losing out on his yearly bonus.