Tax Authorities to make Spaniards declare all overseas assets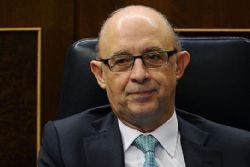 The Ministry of Finance yesterday announced how Spaniards will be required to inform the tax authorities of any overseas bank accounts they may have, as part of the Government's move to combat tax evasion.
The measure will be brought before the cabinet for approval next week.
Cristobal Montoro made the announcement during a congress debate which included an amnesty for tax dodgers who come forward with previously incomes, paying a 'penalty' of just 10%. The measure was included in the 2012 budget, which is hoped will bring the Government €2.5 Billion.
The sum of all initiatives against tax evasion is expected to net €8 billion euros.
The Minsiter called the measure a "tax on hidden assets that once brought to light would be a positive factor in normalizing economic activity in Spain."
According to Montoro, "the choice must be made between the options for collection in an exceptional situation." He went on to say that the instruments chosen by the government were those that were less harmful for economic growth, avoiding the use of others that would damage consumption, such as a hike in value-added tax.
A further statement said the obligation to inform the tax agency of the possession of such accounts will also apply to other financial products such as shares, insurance policies and any foreign property assets.
On Wednesday the PM announced a ban on commercial transactions in cash of more than €2,500, with infractions carrying a fine of 25% of the value of the transaction. Payments over that limit must now be made by bank card or transfers.
Cash payments in cases of tax evasion and fraud often involve the use of €500 notes, with more than 25% of all €500 notes issued by the ECB being traded in Spain.