Ryanair cuts Edinburgh - Fuerteventura route for winter 2012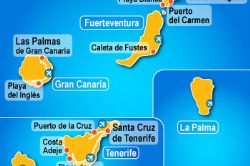 Ryanair has announced that it will cut Winter routes from Edinburgh airport to Fuerteventura for the winter schedules, to to take effect from October 2012.
Similar action will be taken with 7 other European routes : Bremen, Frankfurt, Gothenburg. Lodz, Poznan, Bratislava and Kaunas, which could see passenger traffic at the airport fall by as much as 500'000 and result in the loss of around 500 jobs.
The move will see the number of flights fall from 168 to 108 and comes after the company cut five routes scheduled for summer 2012 in February.
Michael Crawley, deputy CEO of Ryanair, said: "Ryanair regrets BAA Edinburgh Airport's rejection of our proposals for a competitive cost base which would allow Ryanair to further grow our traffic and routes for winter 2012 and beyond."
Mr Crawley pointed out the airline remains committed to Edinburgh Airport and is still one the largest flight providers operating with the facility, as 1.3 million passengers will still travel on its winter flights this winter.