Spain's first private airport under suspicion of illegal funding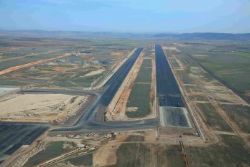 The privately owned Don Quixote airport in Ciudad Real suffered a further blow yesterday after bankruptcy forced the owners to cease the operation of any commercial activity.
The Regional President of Castilla-La Mancha, María Dolores de Cospedal, extended her apologies for the airport's closure, but reminded the residents of the region that as a privately owned venture any operational decisions surrounding the airport were not taken by the government.
Meanwhile, the Minister for the Presidency announced that the Government of Castilla-La Mancha is investigating the possible illegal use of public funds at the airport.