Spain regions stage backing for PM's austerity bid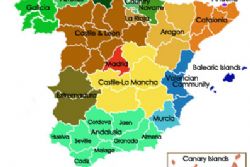 Spain's PP controlled regions staged their backing for the PM's austerity drive on Saturday in a move intended to reassure investors the country can manage its finances.
11 of Spain's 17 highly devolved autonomous regions, which owe billions of euros to street cleaners and health workers, are run by the centre-right party.
At a meeting chaired by Rajoy, they all committed to meeting the deficit target of 1.5% set by the government in this year's budget.
>They also pledged to implement swiftly the extra savings of €10 billion in health and education costs announced last week, as Spain was sucked back into the centre of the euro zone's financial storm.
The cost of insuring Spanish debt against default hit a record high on Friday, driven by fears about the country's banks. Investors are worried that the banks, already laden with bad debts from a burst property bubble, are also acutely exposed through their holdings of sovereign debt.
Spain's regions are expected to cut spending by €15 billion in 2012 to help the country cut its budget deficit to 5.3% of GDP this year from 8.5% in 2011.
"The autonomous communities are not the problem, the autonomous communities must be part of the solution," said Dolores de Cospedal, The People's Party Secretary General and President of the Castilla-La-Mancha region.
No details were given, however, on how the new savings will be implemented. A meeting between the central government and the regions, which manage their own health and education budgets, is scheduled for next Wednesday to resolve the issue.
Last month, the government said it had reached agreement from most of the regions to comply with harsh cost-cutting measures, but several of them including heavyweight Catalonia and populous Andalucia said the burden was unfair.
EURO CRISIS SIMMERS
The regions account for close to half of all public spending in Spain and most of them greatly overspent last year. New slippage in their finances could unnerve investors further.
After a period of relative calm, financial markets are again starting to fear that the sovereign debt crisis which began in Greece more than 2 years ago could engulf the far bigger economies of Spain and Italy.
Spain, which spooked markets by raising its budget deficit target for this year, will try to raise funds at a debt auction next Thursday, after its borrowing costs surged at a sale last week.
In a bid to calm financial markets, Spain's lower house of parliament passed a new law this week enabling the central government to intervene within 9 months in the finances of regions that do not comply with their targets.
The government has also announced it would publish quarterly reports on the finances of the regions and it said it was working on a formula to underwrite bonds issued by the regions in order to cut their debt issuance costs.