Bond yields bring further worries over Spain bailout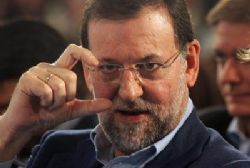 The yield on Spain's 10-year government bonds surpassed the 6% mark this morning as fears that the country may have to seek a financial bailout hightened.
The rate jumped to 6.10% earlier today on the secondary market, according to FactSet, after closing at 5.93% on Friday after a week of market tension.
The rate now stands at the highest point since Mariano Rajoy's PP Government was voted into office in November of last year.
Although the government has implemented a wide range of labour and financial reforms, investors remain cautious about Spain due to the high amount of toxic debt held by the country's banks arising from the collapse of the property market , together with escalating levels of regional debts.
The 10-year bond yield surged towards 7% late last year, a rate considered unsustainable for a country over a long period. Greece, Portugal and Ireland had to ask for bailouts after their yields hovvered above the 7% mark.
The unrest in the bond markets extended to Italy, seen by many as another weak link in the 17-nation eurozone. Its 10-year bond yield rose to 5.60% from about 5.50% by the close of last week.
Last week Spanish Prime Minister Mariano Rajoy ruled out a bailout for Spain.