Highways Agency considers access roads to Paramount theme park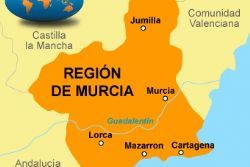 The Regional Ministry of Public Works and Planning is reportedly working closely with Premursa, the promotor and developer of the Paramount theme park with regards to the infrastructure and access required to the site.
The local municpality of Alhama de Murcia, where the park is located, is also involved in the project.
The construction and operation of the theme park will generate additional heavy traffic on the RM2 Motorway, which according to the Minister of Public Works, Antonio Seville "is perfectly able to absorb the extra traffic, because the current average traffic is 11,500 vehicles per day but is designed to accomodate up to 25,000 vehicles per day."
The Minister pointed out that the current (good) state of the regional highways was one of the deciding factors in choosing to locate the theme park in Murcia.
The regional government also confirmed that the Highways Agency is also working on the design of access points so that during peak traffic flows they can absorb further traffic without causing serious problems.
It is understood that two points of access to the park are being considered : A main access road to the northwest of the park and another to the Southeast, which currently exists, but with little scope for expansion.
The new access road is expected to feed from a third lane of the RM2, which will be of sufficient length to hold vehicles waiting for access to the park without inconveniencing other road users.
Antonio Sevilla stressed that any such access work will be carried out and paid for by the park's developers and as such not be at any cost to the local, regional or national governments.