€92,000 Public money spent on another Castellon cock-up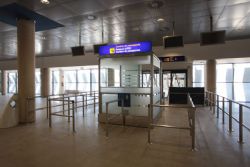 The state of inactivity at Castellon airport, open but still unoperational for more than 12 months, has attracted further criticism from local business leaders earier today.
News that the Tourist Board has had to spend €92,000 of public money to pay for the transfer of more than 7,000 Austrians Pensioners visiting Peρνscola last week, added to the list of 'failures' and missed opportunities surrounding the airport. The foreign pensioners were due to fly into Castellon as part of the ' Senioren Reisen ' subisdised holidays for pensioners initiative - similar to Spain's Imerso subsidised holidays . Typcially this is where Hotels offer such deals to travel companies representing large numbers of Pensions out of season, offering 'collective buying' discounts, which are also subsidised by the government.