Ryanair send e mail warning clients of price hike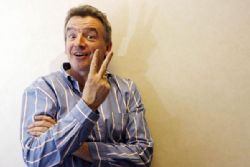 Ryanair has sent an informal e mail to customers, warning them of the 'possible' increases in ticket prices that may be applied on flights to and from Spain as a result of the increased airport fees to be applied by AENA's network of airports in the recent draft budget.
This comes despite AENA insisting that the increase is likely to be no more than €1.60 per passenger.
Whilst other airlines are still considering their response to this measure Ryanair have taken the decision that it is the passenger who should absorb this extra cost, and as such has sent the 'warning' to passengers to expect appropriate increases over the next few days, whilst laying the blame for this at the the feet of the Spanish Government.
If and when it becomes clear that the increase in airport fees will go ahead, Ryanair propose to send a second e mail confirming that a surcharge will be applied to any tickets already bought and paid for.
Consumer groups have criticised this move as being 'illegal', or at the very least 'abusive', however, the airline remains unmoved, pointing instead to fluctuating operating conditions, which are covered within their terms and conditions of purchase.