Spain worries help sterling to 19-month high vs euro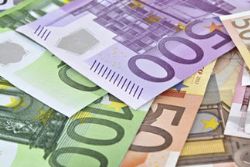 Sterling rose to its highest in 19 months against the euro on Monday and was poised for more gains as concerns grew about debt problems in Spain, prompting investors to seek alternatives to the common currency.
Spanish 10-year government bond yields broke above 6% for the first time this year, sparking worries about a new bout of financial stress in the euro zone and weighing broadly on the euro.
With recent data suggesting the UK economy is showing some signs of improvement, investors have bought sterling as they pull out of euro zone assets.
The pound also benefited after Standard & Poor's reaffirmed Britain's top-notch AAA credit rating on Friday, reflecting an expectation that the government will continue to consolidate its public finances.
"Although UK data is likely to remain mixed it's a lot better than what markets are expecting from Europe, which means a gradual grind lower in euro/sterling," said Derek Halpenny, European Head of Global Currency Research at BTMU.
The euro lost around half a percent on the day to hit 82.10 pence, its weakest since September 2010, stopping just above reported options barriers at 82.00 pence. It last traded at 82.34 pence.
Sterling could now be on track to test its August 2010 high of 81.79 pence and then the June 2010 peak of 80.67 pence. Many analysts believe it could break beyond the key 80 pence per euro level for the first time since late 2008.
"If bond yields keep creeping up it will raise major concerns about the firewall (designed to prevent contagion from the euro zone debt crisis) and the euro will come under further pressure. We definitely see euro/sterling below 82 pence," said Richard Driver, analyst at Caxton FX.
Sterling's trade-weighted index stood at 82.2, near last week's 19-month high of 82.4. The pound's rate against the euro makes up around 50 percent of that index, which is compiled by Bank of the England.
FOCUS ON ECONOMY
The pound has benefited as economic data has hinted at signs of improvement in the UK while the euro zone economy stutters.
However, the UK economy remains fragile and sterling could come under pressure if UK jobs data on Wednesday are weak or if Bank of England minutes on the same day suggest further quantitative easing remains a possibility.
The pound's gains could also be hampered if UK policymakers start to express concerns about sterling's recent gains and the potential damage its strength might do to exports.
However, most analysts see this as unlikely for the time being as sterling's gains have been fairly gradual and it is still considered relatively weak on a long-term comparative basis.
No major data was released on Monday, but investors will watch for UK inflation figures on Tuesday.
Euro zone worries weighed broadly on riskier currencies against the safe-haven dollar, pushing sterling down 0.1% to $1.5832 and taking it close to the late March low of $1.5801.
"Sterling remains firm against the euro and solid against the dollar, but continued euro weakness should logically undermine sterling/dollar from here," analysts at Lloyds said in a note to clients.