De Guindos : No further budget cuts or tax hikes this year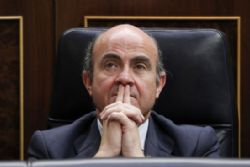 Luis de Guindos, gave an interview yesterday where he ruled out any Greek-style bailout and confirmed how there are no plans for further tax increases or budget cuts this year.
The Minister for the Economy went on to say how the country had no "Plan B" in case it needs to ask for an international rescue package. "Spain is not going to ask for a rescue. No intervention will take place," he said in an interview with El Mundo.
"A country needs a rescue or an intervention when its sources of financing are cut off. That is to say, what happened in Greece, Portugal and Ireland. That is absolutely not the case in Spain," he continued.
During Q1 of 2012, the Treasury had already raised 50% of its financing needs for the year, he said, and the banks had enough liquidity to make interest payments for the next 2 years.
"Spain has absolutely no financing problems or urgent needs," De Guindos said.
The government's 2012 budget, with spending cuts and tax increases of Ä27 billion euros, was credible and based on a realistic forecast for a 1.7% contraction of economic output for the year, he added. As such, the government does not plan new budget tightening measures even if confidence in Spain plummets "That would be incompatible with the medium-term approach we are taking".
Upon being aked if he had further financial measures planned for the year he commented "From the point of view of the budget, yes.... that does not mean that later the government won't carry on taking measures to push more reforms in health or education, whose aim is to ensure the sustainability of those services in the medium term."
The Minister also blamed the doubts over the Euro on Northern Europe "They say 'When it's not Greece, it will be Portugal; when it's not Portugal, it will be Ireland; when it is not Ireland, it will be Spain; when it is not Spain, it will be Italy.... It is very difficult to avoid market attacks if questions continue over the euro and the European Union project."
De Guindos said that Spain faced 3 problems : The regional governments' ability to meet deficit-cutting targets; The impact of austerity measures on economic growth when the jobless rate is 23%, and if lower growth will hurt banks' balance sheets.