Sterling rises vs euro as Spain auction eyed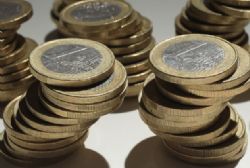 Sterling edged higher against the euro ahead of a Spanish bill auction on Tuesday and could test key technical resistance levels if higher yields at the debt sale prompt more investors to seek alternatives to the shared currency.
Market players were also focused on UK inflation data for March, due at 0830 GMT and expected to show a slight rise to 3.5% from 3.4% in February.
The euro slipped 0.2% against the pound to 82.50 pence, but held above a 19-month low of 82.10 pence hit on Monday.
Strong support for the euro was seen at the 82 pence big figure. Strategists said although sterling may test that level, it was unlikely to break through it this week unless the latest bout of contagion in the euro zone debt crisis intensifies and spreads beyond Spain.
"The pound will benefit from safe-haven flows. But when you look at weekly and monthly charts you realise 82 pence is an important level, it has held for the best part of two years," said Kathleen Brooks, research director at Forex.com.
Brooks said a firm break in euro/dollar below $1.30 was also necessary for euro/sterling to fall below 82 pence.
Spain, which has seen borrowing costs jump in recent weeks on concerns over its ability to meet budget targets, will sell 12- and 18-month Treasury bills ahead of a bond auction later in the week.
Analysts said the sale should go smoothly, although the bills were likely to be sold at higher yields.
Against the dollar, the pound was close to flat at $1.5907, with an Asian central bank cited as a seller around the session high of $1.5918.
Sterling could get a slight boost if UK inflation exceeds expectations, as a stronger number could dampen speculation that the Bank of England Monetary Policy Committee will opt for another round of quantitative easing to boost growth when its current programme ends next month.
"With inflation higher and retail sales likely to show signs of improvement on Thursday, it will make it harder for MPC members to take a confidently bearish view heading into the May MPC meeting," said BNP Paribas strategists in a note.
BNP Paribas said they were looking for further sterling gains against the euro, targeting a fall to 81.00 pence in the second quarter of this year.