Spain to increase school class sizes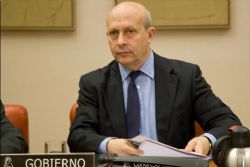 Following his announcement regarding reform of the Universities in Spain at the weekend, the Minsiter for Education yesterday announced plans to introduice cost-saving measures in the country's state run primary and secondary schools.
Minister Jose Ignacio Wert spoke of his proposal to increase the number of students per class by 20%, and of increasing the weekly hours spent in the classroom by primary teachers to 25 hours, and to 20 hours for secondary teachers.
The proposal is to take the effect of a royal decree, and will be presented to the regional governments to take effect from the next academic year.
Other measures included in the draft proposal are for the use of temproary teaching staff and interns to be cut, together with schools being able to opt out of the baccalaureate modules on offer. Currently all school are obliged to offer all modules.
The Unions have criticised the proposals, which are intended to save the Education sector €3 billion, as a backwards step.