Care homes offer places to less than 26pct of those in need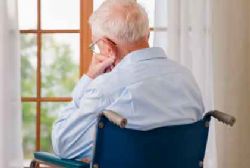 El Pais has reported how almost 50% of people in need of care are looked after at home, mostly by relatives, when many of them need specialist care.
Just 26% of those in need, such as those with advanced-stage Alzheimer's or bedridden senior citizens with very limited mobility - are cared for in residencial homes with the appropriate care.
The newspaper reports how the government has plans to examine the paperwork process involved in referring a patient in need of assistance.
The minister for health and social services, Ana Mato, is in favour of keeping the process as simple as possible and has spoken of the possibility of scrapping the current system, which has two classifications of dependency, each with 3 levels (Great, Severe & Moderate), noting that there is little actual variation in the level of care offered.
Critics argue that those currently classed in the lowest level of the lowest degree (level one moderates) may drop out altogether and receive no help, placing a further burden on their families.