Ibex Insurance staff in Charity Marathon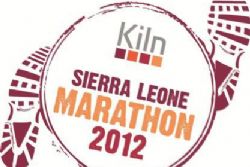 Staff from Ibex Insurance and supporters of the Gibraltar charity AKIN (Association for Kids In Need) have joined forces in an ambitious and adventurous project to raise money for the UK registered charity Street Child of Sierra Leone.
Marathon running has become a very popular challenge for charity fundraisers over the years and the Ibex/Akin team are busy training for their first ever marathon neither but not in Lisbon or Madrid nor in London or New York. No, this group is heading for the small town of Makeni in northern Sierra Leone.
There has never been an organised 'open' marathon in Sierra Leone, which has a tropical climate and high humidity. 70% of the marathon course is on packed mud roads and the race is during the start of the rainy season when temperatures will reach the mid twenties.
Has the question 'Why?' crossed your mind yet?
In 2008 the UN Human Development Index again ranked Sierra Leone last (out of 179 countries) making it officially the poorest country in the world. One in four children do not live to see their fifth birthday. The 11 year civil war between 1991 and 2002 displaced half the population and the memory of atrocities carried out by child soldiers lives on and has left a legacy of orphans and broken communal and social bonds. The grinding poverty still results in children leaving or being driven from their homes and the lack of children's rights has led to a culture of the internal trafficking of children to wealthier families where they are often abused. All in all a 'perfect storm' forcing children onto the streets.
The goal of Street Child of Sierra Leone, (SCoSL) is to reduce the number of children living on the streets. To show them love and care by tending to their nutritional, health, recreational, educational and psycho-social needs. Re-building trust in adults, reconciling the children with their families and communities or settling them in alternative loving environments. SCoSL is a volunteer-led UK-registered charity committed to spending 90% of all donations on high-impact projects.
It was during a trip to Sierra Leone in 2006 that Jimmy Bruzon became involved in the Regent School Refurbishment Project in Freetown. This project was later adopted by AKIN and Jimmy continues to lead the AKIN Sierra Leone Team. Participating in the marathon will be Jimmy's first return to Sierra Leone since 2006. Jimmy adds 'Going back to Sierra Leone will be a dream come true. It will be fantastic to see the impact that our school refurbishment has had on the communities which we have supported over the last few years.'
The Ibex team at the Kiln Sierra Leone Marathon on 9 June is made up of Lianne Gilbert, Richard Hill, Phil Langley, Eva Massetti, Elainne Perez, Alicia Torrecilla Cortes and David Whitmore. The headline sponsors Kiln, who hold a minority stake in Ibex, is marking its 50th anniversary by supporting this event in the 50th year since Sierra Leone gained independence.
A great cause, an exciting adventure with each member meeting their own travel and accommodation costs in full in order that every penny raised goes towards the ambitious target of £15,000 helping Street Child with their important work.
Donations can be made via your local Ibex Insurance office or by clicking here and follow our progress on Facebook by clicking here .