Spain pays nothing to 43pct of unemployed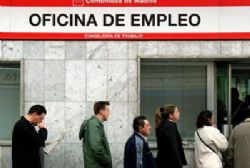 The government claims that 70% of all those unemployed are claiming state benefits, however, this figure has been contested by Brussels who recently compared official numbers of those without work to the amount and number of benefit payments currently being paid out.
As of the end of 2011 the EU recorded a total of 5,273,600 officially registered as being unemployed in Spain, of which the percentage of these people found to be in reciept of some kind of stste benefit payment was found to be just 57%.
According to the aatest figures available, this means that there are about 2.2 million unemployed people who receive no benefits or subsidies (43% of total unemployed).
This figure does not include those in state sponsored retraining schemes, though to number around 300'000.
It is though that there are around 1.4 million people receiving unemployment benefit (at an average of €865 per month for a minimum of 4 months and a maximum of 2 years) and another 1.6 million people onan average payment of €426 euros per month for a period of between 6 and 18 months.