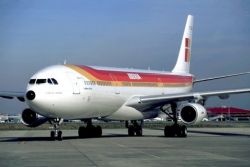 Spanish airline Iberia said on Tuesday it was cutting the conditions and pay of its pilots to save €62 million euros on salary costs, a move that could escalate tensions with striking staff.
Iberia is also at loggerheads with pilots - who are holding strikes on Fridays and Mondays until July - over the launch of low-cost airline Iberia Express.
The airline, owned by International Airlines Group, said in a statement it would cut salaries and additional perks, and increase hours, adding this would save 20% on its total pay bill to pilots and boost productivity by 25%.
"The measures being proposed by Iberia will only affect the pilots, the only group with which - after two-and-a-half years of negotiations - we have not been able to reach a collective agreement," the airline said in a statement.
It said it had reached deals with ground staff and cabin crews.
Iberia and IAG's management insist it is essential to compete with budget airlines such as Ryanair and easyJet , and make the Spanish unit profitable.
However, pilots' union SEPLA says the company is reneging on agreements struck when Iberia merged with British Airways to form IAG, downgrading jobs and conditions in Spain while growing British Airways' operations.
Iberia's statement follows a meeting between the two parties on Monday.