Ryanair Introduce 2 new Spanish routes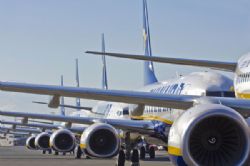 Further to a recent announcement by Ryanair regarding the introduction of new routes from Bilbao to Madrid and Barcelona , the airline has today announced the addition of a further 2 routes.
Routes from Bilbao to Gran Canaria and Seville will begin from June 22nd wiuh prices starting from €20.99 one way including taxes.
As a result of these new routes the airline expects to carry 500,000 passengers, and create 500 jobs - all within it's first year of operation from the base.
The connection to Sevilla will operate four times a week : Monday; Wednesday; Friday and Saturday and a the flight to the Canry Island will fly on Tuesday and Friday.
Ryanair currently has 11 operating bases in Spain, with a presence in 24 airports and over 500 routes, with a target to fly 38 million passengers this year, up from 36 million during 2011, which maintains 38,000 jobs in Spain.
When asked by reporters about the possibility that Ryanair may also operate from Vitoria's Foronda airport, the Head of Marketing and Sales for Spain, Luis Fernandez-Mellado, would only say that they were currently in talks with 50 airports across Europe.