Murcia 12th most searched world destination in March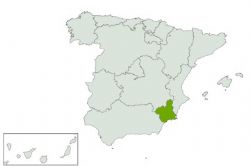 The Spanish region of Murcia was one of the most searched for destinations by those planning a break during the month of March.
The study by the www.skyscanner.es webportal examined the total number of searches for flights and holidays made on their website during March to find the most popular destinations.
Spain was once again the most requested country, ahead of the likes of the UK, Italy, USA and France, among others.
In addition to countries, a list the top 100 most popular resorts and cities throughout the world was also compiled, where 15 were found to be in Spain.
Barcelona was the 2nd most searched for worldwide destination for March, followed by Madrid in 8th place, and Malaga in 9th place.
The City of Murcia came in at number 12 on the list, way ahead of other Spanish regional capitals like Girona or Sevilla.
This news is not only sure to welcomed by the Spanish tourist board as a whole, but certainly by the regional tourist board of Murcia.
Recent glitches with both the Paramount Pictures theme park project and Corvera International Airport have given critics and observers much to be nervous about, but the news of Murcia's increasing popularity may be expected to calm the nerves of any investors.