Rajoy slams Argentina over YPF Repsol takeover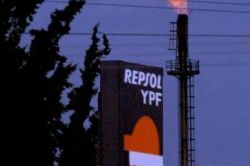 Spanish Prime Minister Mariano Rajoy blasted Argentina's decision to seize control of energy company YPF, a unit of Spanish oil major Repsol, saying the action would damage ties between the two countries.
"I must express my profound unease. It's a negative decision for everyone," Rajoy said on Tuesday at the World Economic Forum in Puerto Vallarta, Mexico, adding that the Spanish-controlled company was being expropriated "without any justification."
"This breaks the good understanding that has always characterized relations between our two countries and also damages Spain and Argentina," Rajoy said.
Madrid called in the Argentine ambassador in a rapidly escalating row over the nationalization order by Argentina's populist and increasingly assertive president, Cristina Fernandez. The move delighted many of her compatriots but alarmed some foreign governments and investors.
YPF has been under intense pressure from Fernandez's center-left government to boost production, and its share price has plunged due to months of speculation about a state takeover.
Until recently, YPF had a harmonious relationship with Fernandez. However, a surging fuel import bill has pushed a widening energy shortfall to the top of her agenda at a time of worsening state finances in Latin America's No. 3 economy.