Spain to decide Argentine action on Friday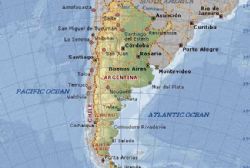 Spain will decide specific measures against Argentina's decision to seize control of leading energy company YPF, a unit of Spanish oil major Repsol , at Friday's cabinet meeting, its foreign minister said on Tuesday.
Spain's Prime Minister Mariano Rajoy is currently in Mexico for the World Economic Forum.
On Monday, Spain promised "clear and strong" action against Argentina for its nationalisation of YPF, but other companies and countries have found it difficult to exert concrete pressure on Argentina on similar matters.
"The most effective sanction in this world ... is the loss of global investor confidence," Foreign Minister Jose Manual Garcia-Margallo said at an event on Tuesday.
"Argentina has shot itself in the foot," he said.
In March, U.S. President Barack Obama said he would suspend trade benefits for Argentina because of its non-payment of settlements ordered by a body of the World Bank.