Murcia Mayor criticises PP over Corvera uncertainty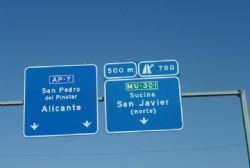 Juan Patricio Castro, the Socialist Mayor of the City of Murcia, has criticised the regional PP Government for raising the expectations of Murcia residents over the promise of jobs at Corvera International airport.
The neighbouring municipality of Fuente Alamo recently took the decision to suspend the training courses planned for potential employees at the airport, at the request of the Employment and Training Service (SEF). Castro questioned whether the municpality of Murcia, who share responsibility for the airport with Fuente Alamo, had received similar notification from the SEF.
In February of last year the Regional Employment Service announced that 1,150 candidate would undergo training for a number of different roles at the airport, narrowed down from over 25'000 applications. More recently, the transfer of AENA employees from San Javier airport has resulted in a downward revision of the number of positions available, which will now stand at 500 : 330 from Murcia and 170 from Fuente Alamo.
Castro criticised the PP for the lack of solid information - firstly in the exact number of jobs to be created at the airport, and secondly in the opening date, which are still be advised.