Spain has few ways to pressure Argentina over YPF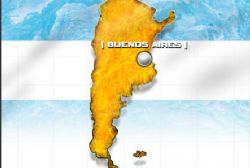 Spain has threatened to retaliate against Argentina for nationalising a Spanish energy firm, but Madrid will find it hard to put real pressure on a maverick nation that has been shut out of world debt markets and has ignored international fines in previous disputes.
Argentine President Cristina Fernandez said this week she would fulfil a life-long dream and solve her country's energy shortage by seizing control of its biggest oil company, YPF, a subsidiary of Spain's Repsol.
Madrid immediately threatened economic and diplomatic "consequences". But given Argentina's record with international investment and the restrictions on what sort of retaliation Spain can take, the threat may well be hollow.
"The threat really has very little credibility. What measures can they take?" said Jose Ignacio Torreblanca, head of the Madrid office of the European Council on Foreign Relations.
He said Argentina has little investment in Spain, while Spanish companies with investments in Argentina's highly regulated telecommunications and utilities sectors could suffer if tensions escalate between the two countries.
Spain will ask the European Union to file a complaint with the World Trade Organization against Argentina, a high-ranking government source said on Wednesday, though it may find difficulty winning support from all 27 EU member nations.
Even if it did receive EU backing, such a complaint may not succeed with the WTO, which would want proof that Argentina was acting against public interest by taking control of YPF as laid out in a Spanish-Argentine bilateral investment treaty.
"Unfortunately, there's no real WTO angle to this. This is a matter of investment and expropriation which is dealt with by the bilateral treaty," an EU source in Geneva said.
The EU, US and others are already chasing Argentina at the WTO because of its new protectionist import licensing rules.
The European Parliament is due to discuss the new dispute with Spain next week
ARGENTINA HASN'T PAID SETTLEMENTS
Under Fernandez and her husband and predecessor, the late Nestor Kirchner, Argentina has antagonised investors but still enjoyed strong economic growth and growing employment on the back of high prices for soy beans, its biggest export.
However, persistent investor jitters mean foreign investment in Argentina has fallen behind more business-friendly countries such as Brazil, Chile and Peru.
Given the business environment in Argentina, Repsol had already been working on scaling back its exposure to the country, so the effect of the nationalisation will be limited.
There is little leverage outsiders can put on Argentina except, perhaps, China, which buys 75% of Argentine soy beans and much of its processed soy as well.
Under the rules of the World Trade Organisation and the European Union, Spain cannot take unilateral trade action against Argentina, say by restricting imports of Argentine biodiesel or soymeal.
Its main recourse would be to take the Repsol-YPF case to the World Bank's International Centre for Settlement of Investment Disputes, known as the ICSID, to demand fair compensation for Repsol over the expropriation.
But Argentina could argue that it is in its public interest to expropriate YPF and a fight over the valuation of the firm is already on, as Argentina has said it does not intend to pay the $9.3 billion that Repsol is demanding for its 51% of YPF.
Argentina also has a very bad record at the ICSID. Fully one quarter of all global cases handled by the body have been brought against Argentina.
"Argentina is among the worst in terms of compliance with ICSID judgements, if not the very worst," said Ana Palacio, a former secretary general of the ICSID and former Spanish foreign minister.
In March, U.S. President Barack Obama said he would suspend trade benefits for Argentina because it has failed to pay more than $300 million in compensation awards in two disputes.
European Union officials have publicly lamented Argentina's move against Repsol but Torreblanca of the European Council on Foreign Relations said the EU would give little more than moral support to Spain.
An EU trade official said Spain cannot limit any imports from Argentina without winning a dispute at the WTO. The EU's 27 members would also have to agree on the limitations.
"We don't do tit for tat. Just because there is a knee-jerk action by Argentina does not necessarily mean that there should be a knee-jerk reaction from the European Union," said another EU official, who asked not to be named.
GLOBAL RULE-BREAKER
Despite years of warnings that Argentina risks isolation, Fernandez has reinforced the country's reputation as a global rule-breaker, which began when it staged the biggest sovereign debt default in history in 2002.
And with the YPF move Fernandez has only cemented policies rooted in an ideology that has aligned Argentina with Venezuela's leftist President Hugo Chavez.
Argentina has repeatedly flouted world trade rules - drawing criticism from 40 countries earlier this year - by restricting all kinds of imports as it tries to reduce its trade deficit in order to increase foreign currency reserves to use to pay down debt, since it cannot access global credit markets.
Private companies, both domestic and foreign, have long been cowed by Fernandez and Kirchner, who have publicly called for boycotts or launched tax investigations against companies that got on the wrong side of their government.
The Argentinian government even has an enforcer, Domestic Commerce Secretary Guillermo Moreno, who personally calls company executives to warn them to keep down prices of products and to limit purchases of foreign currency.