'Germans do not know where Castellon is' : Air Berlin CEO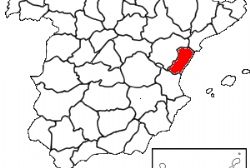 The CEO of Air Berlin's operation in Spain and Portugal, Alvaro Middelmann, has told a press conference how the airline will not fly from Castellon airport because "not one single German Tourist can tell you where it is."
Middelmann expressed doubts about the future of the airport, which remain unoperational after more than one year since officially opening, saying "I do not know what will happen, it should become a training circuit for Formula One."
Aerocas, the concession holder for the airport is still to give a date when the facility will become operational.
The CEO commented how the city of Valencia has made every effort to "get on the map" and promote itself by organizing events such as the Formula One or America's Cup. "Now everyone knows where Valencia is, where 10 or 15 years ago they did not".
He went on to blame the condition of many of Spain's airports on the fact that the various Regional Governments had pushed for their own facilities without considering the opinion of the various airlines.
Middleman also questioned the effect that the opening of Castellon would have on the neighbouring Valencia-Manises airport. Air Berlin lost a total of 27,614 passengers from Manises in 2011 - a drop of 10.1% on 2010, but hopes that this will not lead to the cancelation of any routes.