Court Auditors report recommends AENA to manage Castellon airport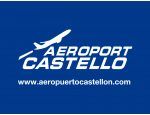 The latest report of the Court Auditors has concluded that handing the operation and management of Castellon airport to state-run AENA would be in the best interests of both the national and regional governments.
Such a move would limit the effects of spiraling debts, however the likelihood of any succesful negotiation would have to take into account that the first years of operation would do so at a deficit until such a time when passenger numbers could be grown beyond 1 million per year.
The report noted that the airport lost €510 between 2009 and 2010 and is struggling to raise further private investment, however it also pointed out that just 9 Spanish airports were profitable in 2009, and 11 in 2010.
The Unions - specifically the CCOO, UGT and USO - are against such a measure, and formally called upon the Ministry of Development not to explore an agreement between AENA and Aerocas any further.
In contrast to the Auditors report the regional government of Valencia still believes in the project, with Vice President Joseph Císcar, yesterday promising how Castellon airport would become more profitable than other publically owned airports soon after becoming operational.