Castellon President accuses Air Berlin of 'a lack of respect'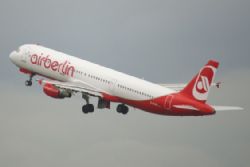 The President of Castellon Council, Javier Moliner, has accused Air Berlin of showing "a lack of respect" due to the comments made by their CEO of Operations in Spain and Portugal yesterday.
Alvaro Middlemann told a press conference how the airline would not establish routes to the airport due to the fact of 'No German tourist knowing where Castellon is' .
The CEO was comparing the promotional work undertaken by Valencia 15 years ago when it was an unknown tourist detsination, such as promoting the Formula 1 Grand Prix, and the Americans cup.
Moliner defended the province, saying how there are 5'000 German citizens who are already resident in Castellon, and an estimated 28'000 who visit every year as tourists.
He went on to invite Middlemann to come to Castellon himself to get to know the airport itself aswell as the wider area, where he would see that that, once operational, the airport would have "Great appeal" for Air Berlin.
Las Provincias newspaper noted that Moliner's reaction to yesterday's comments were much harsher than comments made by Spain's own Minister for Foreign affairs, José Manuel García Margallo , when he said that Castellon is a "Pedestrian Airport" .
A lesser recation still came when the (then) Minister of Tourism, Miguel Sebastian, commented that tourists only came to Castellon 'by accident'.