Spain to increase college fees to help cut deficit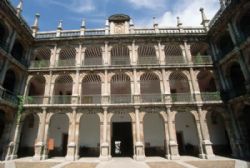 Spain will allow its regional governments to increase university fees, it said on Thursday, giving them a way to help meet tough cuts they are expected to make as part of a national austerity drive.
Spain's regions need to cut €3 billion euros of education spending and a further €7 billion from healthcare as the government tries to meet a tough public deficit cutting goal this year and avoid the need for a bailout.
Education Secretary Montserrat Gomendio said the regions would be allowed to raise university fees so students would pay a maximum of 25% of the cost of their studies, up from 15% before. Annual costs are on average around €1,000 at present.
The government confirmed this week it will allow regions to increase classroom sizes by 20% and make teachers work longer hours.
Spain's 17 autonomous regions account for around 50 percent of public spending and are responsible for health and education expenditure. They widely missed deficit targets last year and investors are nervous they could do so again this year despite the threat of sanctions if they go astray.
The education fees announcement came a day after the government said it would allow the regions to charge more for prescription drugs.
The cuts are likely to spark further protests. A general strike on March 29th shut down some major industry but was not massively supported as many people are concerned about the high unemployment rate, around 23%.