Todays Iberia strike brings 120 cancellations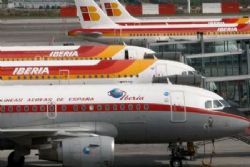 Iberia airlines has been forced to cancel 120 of 328 of their scheduled flights for today in the 4th day of strike by the SEPLA pilots union in protest over the creation of low-cost subsidiary, Iberia Express.
Of the 120 cancelled flights, 57 were within Spain, 53 were short haul flights within Europe and 10 long haul international flights.
Similar strike action is planned to continue for every Monday and Friday between now and the 20th of July.
These strike days, each one of which is reported to cost Iberia 3 million euros, have been widely condemned by the airline, who earlier this week responded by cutting the pay for Pilots by an estimated 20% .