Spain bad bank idea mulled but no plans yet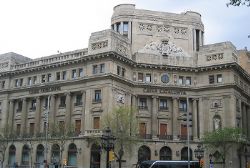 Spain is considering the idea of creating a "bad bank" to take over non-performing real-estate loans from Spanish banks to help clean up the sector, but so far there are no plans for such an institution, European officials said on Saturday.
"There is no plan or decision, but some consideration, as far as I know. It could, possibly, be a good idea," one senior European Union official said.
The official said the idea had not yet been discussed with the European Union, whose institutions would likely get involved should it the idea get more developed.
"There have been outside suggestions for such a bad bank, but to the best of my knowledge there are no such plans," a senior euro zone official said.
A sharp fall in Spanish real estate prices, which some economists say could continue, has raised market concerns about the mortgage portfolios of Spanish banks and the size of their recapitalization needs.
Spanish banks are carrying their biggest burden of bad loans since 1994, data showed on Wednesday, fuelling doubts on whether the country's ailing lenders can survive without outside help.
Both Madrid and the European Union have said there were no plans to provide emergency lending to Spain.
The Bank of Spain on Tuesday approved plans by all 135 Spanish banks to boost capital, but said some may faced difficulties meeting tough requirements set by the government, making it almost mandatory for the weaker institutions to fall into the hands of stronger ones. As the economy deteriorates, Spanish banks are expected to need more than the extra €53.8 billion (£44.1 billion) in new capital, the Bank of Spain had predicted. This latest amount is already an increase on the government's 52 billion euro estimate in February.
Spain's economy has yet to recover from the bursting of a long-running property bubbl 4 years ago, and financial markets fear the combination of private and government debt will be too great for the country to bear without turning to the euro zone rescue fund.
Angel Berges, chief executive at the independent Analistas Financieros, has said that with non-performing loans steadily rising the banking sector could need a further 50 billion euros in cash to clean up its balance sheets.
Non-performing loans increased by €3.8 billion to €143.8 billion in February from January, representing 8.2% of the banks' credit portfolios, Wednesday's data showed.