Unemployment to jump beyond 26 pct by 2013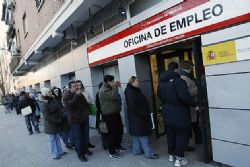 The Spanish rate of unemployment rate has been forecast to grow to 26.3% in 2013 as GDP falls by 1.5%, according to a reportreleased yesterday by FUNCAS, an organisation run by the country's savings banks.
Unemployment currently stands at almost 23%, and is predicted to reach 24.5% by the end of this year with GDP shrinking by 1.7%, the report said.
The Government also projects GDP will fall 1.7% in 2012 and that the country will lose a further 630,000 jobs iover the course of 2012, bringing the unemployment rate to 24.3%.
FUNCAS see domestic consumer demand falling by 4.4% both this year and next, with no signs of a recovery in business investment.
However, the Governments forecast disagrees with FUNCAS on the subject of Spain's budget deficit. While the government remains committed to reducing the deficit from last year's 8.5% of GDP to 5.3% in 2012, FUNCAS economists expect this year's deficit to come in at 6.2% of GDP.
The PM hopes to reduce the deficit to 3% of GDP in 2013, in compliance with the EU's stability pact, a goal Funcas says will require "new cuts in public spending of major significance and substantial (tax) increases.
This year's draft state budget included €27.3 billion euros in spending cuts and tax hikes.